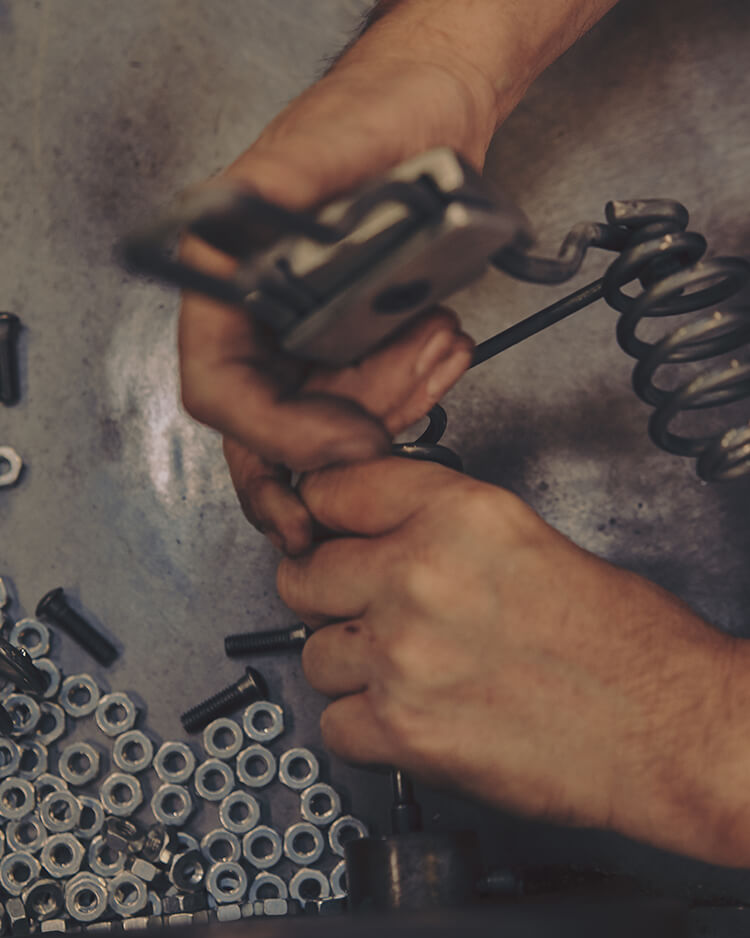 At Brooks, we take saddle making very seriously, with dedication, passion and care throughout every crucial step. Our leather saddles use only top-grade, vegetable tanned leather and are built to age beautifully, bearing the hallmarks of each journey, every discovery and all the paths you will follow.

But, like many natural materials, leather saddles require care and occasional maintenance to perform at their best. For times when a repair is necessary, at the Brooks factory in England we offer our Factory Repair Service which specialises in carefully mending worn or damaged saddles.
Types of factory repairs
- Replacing 1 or more of the 9 rivets that attach the leather top to the frame
- Re-attaching or replacing the Brooks nameplate
Tension Pin and Nose Repair
- Fitting a new tension pin
- Replacing a damaged nose piece, replacing the 3 front rivets
- Replacing a damaged shackle
Saddle Bracket /Rail Repair (for sprung saddles)
- Replacing a bracket (lower rail) or side rod (upper rail)
- Replacing a pair of rear springs
- Replacing a front loop / front spring
- Replacing a backplate assembly
Complete Saddle Frame Repair (for non –sprung saddles)
- Replacing a frame assembly (backplate and bracket assembly)
- Replacing one or more of the 6 rivets that attach the frame assembly to the leather
- Fitting a new tension pin
- Replacing a damaged nose piece, replacing the 3 front rivets
- Replacing a damaged shackle
Please note that our base price does not include any shipping costs. You will need to arrange and pay for the delivery of your saddle to our factory, and you will be charged for the return postage fees.
Generally, we can only offer repairs on saddle models for which the required components are still available. That's why we always advise our customers to get in touch with us before sending in their saddles, so we can confirm whether or not a repair is possible.

The leather top is essentially the heart and soul of our saddles. Taken from one of the most substantial parts of the hide, each piece is diligently prepared using carefully sourced natural tannins. With proper care and regular waterproofing, your Brooks saddle will age beautifully for a lifetime of comfort and discovery. Unfortunately, as it is a natural material, if the leather does become misshapen, damaged, scuffed or otherwise ruined, especially due to improper care and maintenance, it is not possible to return the saddle to its original state or appearance. Due to this, we do not undertake repairs on damaged leather components.
How to proceed
Leather saddle repair requests can be submitted at www.brooksengland.com using the "Leather Saddle Factory Repair Request" form.
Please provide all the necessary information as requested in the form, giving as much detail as possible regarding the type of repair needed. When possible, please include some supporting pictures to illustrate the desired repair.

Please don't send us your saddle just yet.

Based upon the information received, Brooks will contact you to let you know whether or not a repair is possible, provide a pricing quote (including the postage fee to return the repaired saddle to your address), and instructions on how to proceed and how to make the payment. Payment must be completed before the saddle is returned.
General repairs
Functionality, style, and care.

From touring to commuting, for short journeys or even those without a definite end, when a cyclist sets out there are three things they must trust: themselves, their bike and their accessories.

Brooks products have always been designed and made to last with passion and care, using high-quality materials and premium details. We are here to provide you with products for a long-lasting experience, but if necessary, we are here to repair them as well.

Therefore, we offer a range of replacement possibilities for you and for the environment. Because the most sustainable product is a well-maintained product!

As it's important that repairs are made in the proper way. Repairs that require medium to high levels of skill and knowledge to accomplish, need to be handled through our dealers or by trained technicians at one of our Brooks-approved repair centres. Please first contact your dealer directly in case you need support.

And if you are still at a loss, the Brooks Leather Saddle Factory Repair offers extra support, especially for the most delicate repairs.
Spare Parts