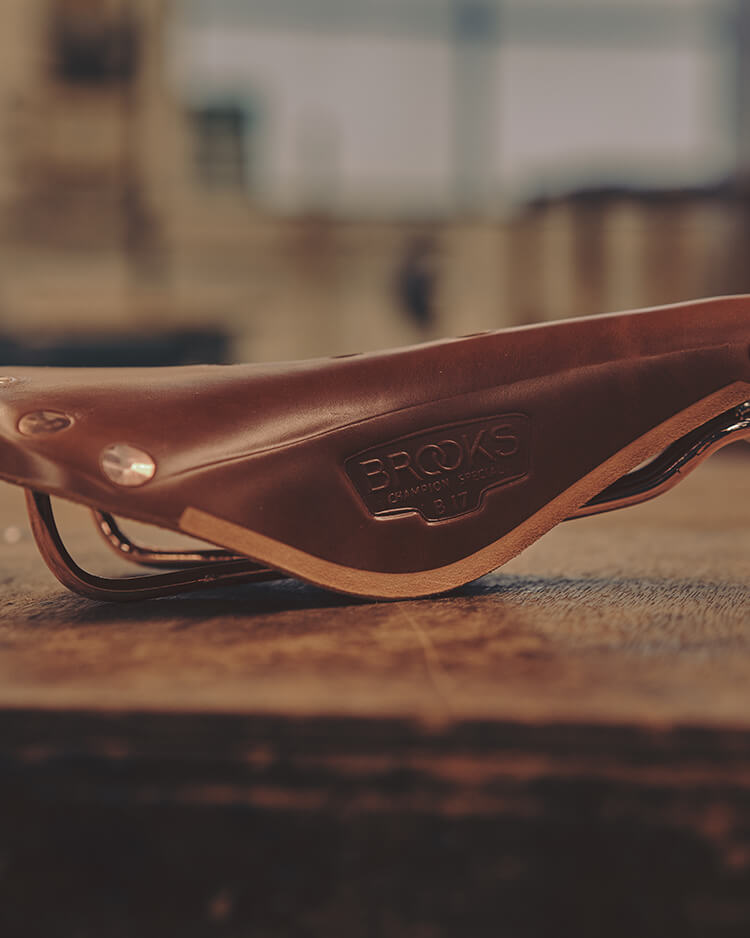 Your Brooks Leather Saddle will be a trustworthy companion for your rides and boundless journeys because leather is a most peculiar material. It's robust, at almost 5mm thickness, and naturally long-lasting with care and regular waterproofing using our Brooks Proofide. By so doing, the saddle leather will weather and age beautifully, assuring its legendary comfort.

By registering your Leather Saddle on the Brooks Website within 3 months from the date of purchase, you can extend the standard 2 years guarantee to 10 years total, for additional peace of mind.
What is covered
The extended guarantee is offered only for leather saddles in the Brooks range.

The 10 years extended guarantee covers against problems that may arise as a result of a manufacturing defect on a Brooks leather saddle that was originally bought new.
What is excluded
As our leather saddles are made from natural materials, they require particular care and attention.

We urge all our customers to read and adhere to the care and maintenance instructions that are provided with your purchase. The guarantee does NOT cover any accidental damage caused by incorrect care or maintenance, crash, misuse or neglect of the saddle.

This guarantee is non-transferable, and as such, excludes any product bought as used (second-hand), or acquired by virtue of being already fitted onto a bicycle bought as second-hand.

To benefit from this extended guarantee, it is necessary to register the purchase of your leather saddle with Brooks within 3 months of the purchase date, providing all the needed information.
How to register for the Brooks 10 Years Guarantee
This can be done by completing the "10 Years Guarantee" online registration form.

All requested information on the registration form will need to be correctly completed before the document can be successfully saved; this includes a 3-digit saddle production code found on the underside of the leather. You will also be required to upload a copy of your proof of purchase (invoice/receipt), which must include a purchase date.
Brooks will review the completed document and, if all is satisfactory, approve the registration. In doing so, the 10 years guarantee will become valid from the date of purchase. There is a strict time limit of 3 months from the purchase date to make the registration and claim the extended guarantee. Late, incomplete, or incorrectly completed registrations will not be validated and, in these cases, only the standard 2 years warranty will apply.
How to file a claim within the first 2 years of Brooks ownership
If you have an eligible issue with your leather saddle within the first 2 years of ownership, even if you have registered your product for a 10 Years Extended Guarantee, you should follow the claim procedure as defined under the "Warranty" section which instructs you to initiate your claim through the vendor from whom you made the original purchase.
How to file a claim between 2 and 10 Years of Brooks ownership
If you have an eligible issue with your leather saddle more than 2 years after the date of purchase, but within the 10 years extended guarantee period, and your product has been correctly registered for the program, then please make your claim directly through Brooks.

You can use the form titled "10 Years Leather Saddle Guarantee-Repair". Please complete all of the information requested on this form, giving as much detail as possible about the issue you have with the saddle. Please include relevant pictures to illustrate the issue, as well as a picture showing the 3-digit saddle production code on the underside of the leather. If you still have it, a scan of your proof of purchase would also be helpful to accelerate the process. From this information, Brooks will open a claim for you and be in touch to offer support.
REGISTER YOUR SADDLE